Dr. John's Book…
Is NOW AVAILABLE!
Dr. John's recent book dealing with female mate selection is the result of many years of research and data collection from over 300 girls and women who shared their experience with dysfunctional and underachieving partners.
His collection and cataloging of the thoughts from those women have led to the identification of six reasons, or "strands" as Dr. John characterizes them.
Low self-esteem
Nurturing
Excitement
Control
Desire to be Nurtured
Chemistry
The first six chapters of his book, therefore, detail the description and explanation of those six motivations for self-reported poor partner choices.
The second half of the book, also laid out in six chapters, draws upon Dr. John's forty years of experience as a teacher, professor, and therapist. Chapters 7 through 12 outline steps that the reader may employ (or share with friends, daughters, or granddaughters) to avoid future relationship disappointments.
The work reflects Dr. John's hope that his sharing of the thoughts of 300 former clients and students will enable the readers to avoid another puzzling and unfulfilling choice of a partner.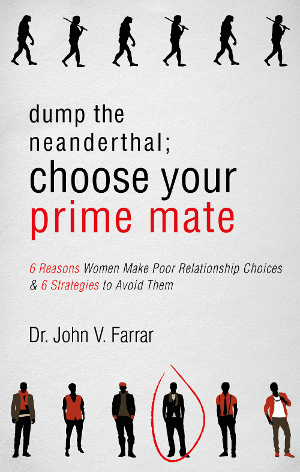 THE BOOK IS HERE!!
To receive a copy,
CLICK HERE
to e-mail us your name and contact information, and we will contact you for payment and shipping arrangements. 
Click Here
for more information about the Book.